Renaissance Faire Singing Groups: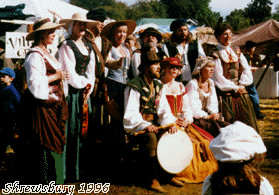 Shortly after moving up to Oregon from Southern California and Country Matters, Mark Warner found that he could not live without singing. He started All For A Lark and they have been performing at Shrewsbury since '96. They are located in Eugene, Oregon and are availible for booking.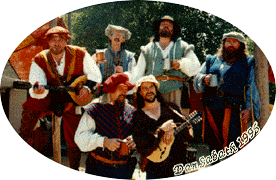 In 1994, Stu Venable decided that he wanted an excuse to drink (and sing) at the local renaissance Pleasure Faire. He called some friends and a few enemies and decided that a group of six men would be a fun way to start and a great way to attract girls. Thus were the Poxy Boggards born. 1
Over the years they have produced the Poxy Boggard's Hymnal, and the Bawdy Parts Seedy Songbook, as well as several albums, Bawdy Parts Barley Legal(with sample songs). Their third album "Lager Than Life" ranges into the parental advisory arena. PoxRidden collects all three previous albums under one cover.
A co-ed singing group based out of the Southern California Renaissance Pleasure Faire. They sing traditional and Renaissance Faire Music. Samples from their album Praeludium ad Simulationem(The more we practice the better we fake it) are availible from the Jester's Court.
The Muse have undergone several incarnations over the years, all of them well worth listening to. The Muse focus on Celtic Music and can be found playing in the Houston area. They have released four albums since '91.
A celtic band based in Houston
A very good pipe band from Houston. Ah yes they are humorous as well
A wide variety ranging from classic celtic and original songs about kissing frogs or drinking to bawdy tunes of dragons, virgins, and ducats. They have samples at their site.
The Sailors play in the Houston area and are regular performers at the Texas Renaissance Festival
The Pyrates are a Nautical group from the other coast. They play regularly in the Maryland-Virginia area.
Ancient, Traditional, and Contemporary Celtic Music
plays at the Michigan Renaissance Festival
Traditional Irish Music on the East Coast
Dance:
Retail Companies:
Purchase and Sampling of the works of many fyne storytellers and singing groups performing at Renaissance, Irish, Scottish and English Faires in the United States
A Searchable Database of Celtic CDs.
Home of The New World Renaissance Band, Cantiga, Owain Phyfe, Stefano Pando, and many other early music recording artists.
Lyrics and Other Resources:
This is an archive of songs generally performed at faires. If you don't find what you are looking for here, try the Digital Tradition.
Another song archive.
One of the oldest and best search engines for finding lyrics to folk songs of all traditions.
Quite a few songs I have heard performed at various Faires.
A great resource for those of you who listen to your CD's on your computer. This free database is kept updated by community effort. Check their site for a freedb compliant CD player for your platform. Many of them are freeware. Why we no longer support CDDB
A clearing house for Folk Music resources.
"The home of celtic music on the internet, since 1994. Ceolas houses the largest online collection of information on celtic music, and has links to hundreds of related sites."

---
1
From
the album cover of the Poxy Boggards' Bawdy Parts