September 9th & 10th, 2023
Celebrating 27 Years Of Teaching History Through Faire Play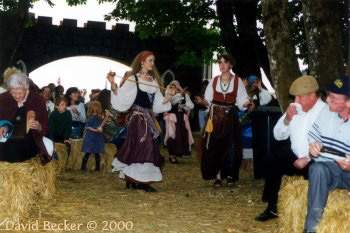 Gates are Open from 10am to 6pm
Kings Valley - Oregon
est. 1996
---

Purchase Tickets Online or At the Gate

Before you come, please note:

Bring cash as a backup; we have no ATM and each of our vendors have their own payment arrangements.
No pets. Of course we welcome assistance animals as indicated under Oregon law.
Check your fuel as the nearest gas stations are about 15 miles in any direction.
Outdoor terrain on our partially unimproved site can be challenging for crutches and many kinds of electric scooters.
Feel free to contact us directly if you have any accessiblity questions; we have some experience.

If you choose to purchase your tickets online, please note:

Print your tickets! We have limited cell service, electricity, etc.
Come up to any window for your hand stamp, including the VIP window.
All members of your party must be with you when you redeem your tickets.
Feel free to contact us directly if you have any problems before making your purchase.

If you choose to purchase your tickets at the gate, please note:

This text isn't ready yet for this year. Please check back tomorrow.
Our at-the-gate pricing and coupon will be ready by then.


CLICK HERE TO PRINT COUPON


---
Come be thee blythe and merry at the Renaissance Faire! Just 15 miles and 500 years away from downtown Corvallis. Here enchantment awaits young and old alike as jousting knights and noble steeds clash on the tourney fyld while minstrels, troubadours, jongleurs, dancers and bards fill the lanes with delight.
With over 125 artisan stalls and 1,000 costumed players, visitors can browse the village for unique hand made goods and one of a kind treasures while surrounded by Renaissance revelry and entertainment. Eat, drink, and be merry, for food purveyors are on hand within Friar Tuck's Forest, and children delight in games and adventures.
The only Fair of its kind in Oregon, this exciting event offers an educational interactive adventure in history, welcoming families and children. Modeled on the merriest of elements from the times of Shakespeare and Elizabeth I, and set in the historic renaissance of 1558 to 1603, here all the Faire is a stage, and everyone a player!
Oregon Festivals & Events Association

Oregon Ovation Award ~ Best Festival 2004


International Festival & Event Association

Oregon Ovation Award ~ Best Cultural Festival 2003
Oregon Ovation Award ~ Best Festival 2002
Oregon Ovation Award ~ Best Cultural Event 2001
Oregon Ovation Award ~ Best Cultural Event 2000
Regional Tourism Award ~ Best Festival 1999

---
Fast Faire Facts
More Information about:
---
E-mail: shrewfaire@gmail.com 38377 Kings Valley Hwy Philomath, OR 97370 (541) 929-4897